| ALEXANDER BONDURYANSKIY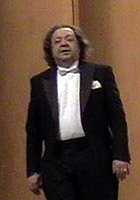 ARTISTIC BIOGRAPHY
Pianist Alexander Bonduryanskiy is a continuously member of "Moscow Trio", which appeared in the class of leading chamber ensemble professor of Moscow conservatoire Tatiana Gaidamovich.
A. Bonduryanskiy was born in 1945 in Herson (Ukraine). He started music education there in the school and college under K.Dedova, A.Kamenskaya and S.Zyuzina. At the age of 14 he performed his first concert. Later Alexander had concerts with the orchestra (Mozart, Grieg, Rachmanninov).

In 1962 - 1967 A. Bonduryanskiy studied in Kishinev conservatoire (Moldova). His professor was A.Sokovnin. In 1964 A. Bonduryanskiy got the 1st prize at the Republican competition and Interrepublican competitions (1965, 1966). In these years he had big concert activity, performing solo programs and concerts with orchestras of Moldova, Ukraine and Latvia.

In 1967 - 1969 A. Bonduryanskiy entered Post-graduate of Moscow conservatoire in the class of well-known pianist Dmitri Bashkirov. Communication and friendship with him influenced a lot to young musician. But playing in the chamber ensemble class of Tatiana Gaidamovich has predetermined his future music life. More than thirty years A. Bonduryanskiy is connected with chamber ensemble performing art and teaching, music science, and of course with "Moscow Trio".

In 1969 - 1971 A. Bonduryanskiy taught in Kishinev conservatoire, later in a music college under Moscow conservatoire. Since 1980 his worked in Moscow conservatoire, at first as an assistant in a class of Gaidamovich, then as a teacher (1984), assistant professor (1990) and since 1995 as a professor of chamber ensemble class. At these years he brought up many ensembles, which became laureates of different All-Russian and International competitions. Among them "Brahms-Trio", "Anima-Quartet", "Consonance-Quintet", lots of sonata duets. His master classes pass with a great success in Russia, Moldova, Ukraine, Latvia, Spain, Germany, Finland, Switzerland, USA and other countries.

In 1989 A. Bonduryanskiy defended a thesis "Brahms' Piano trios". He also has scientific works about piano trios, composer's styles (Brahms, Dvorak, Smetana, Beethoven, Sviridov), questions of art interpretation.
In his repertoire there are music by Bach, Haydn, Mozart, Beethoven, Schubert, Brahms, Chopin, Tchaikovsky, Rachmaninov and other composers. But the main concert activity is connected with "Moscow trio".

A. Bonduryanskiy was a laureate of International competitions in Munich (1969), Belgrade (1972), Budapest (1975) and Bordeaux (1976). Together with his colleges V.Ivanov and M.Utkin he performed in many International Festivals and concert halls.

A. Bonduryanskiy is a People's Artist of Russia (1994) and Moscow Prize Laureate in literature and art (1997). He is a Jury member of different competitions, the President of the organizing committee of the International Association of chamber music, continuously member of organizing committee of S.I.Taneev chamber ensemble competition.